52. indonesia: Theatre play: Tanah – 2009
TANAH was part of the Theatre for Development and Education (TDE) programme, an initiative of Yayasan Kelola and Theatre Embassy. TDE attempts to consciously influence the behaviour and attitudes of Indonesian people by engaging them with culture. Every year TDE invited a professional, highly rated artist to collaborate with the TDE program. The artist chosen for 2010 was Iman Soleh and his CCL1 community.
TANAH ("land" in English) created attractive theatre using interrogation and participation.
The changing landscape of Lembang inspired TANAH to create a visionary "theatrical" landscape together with the land and its users. The district of Lembang is a located in the mountains north of Bandung. Its beautiful landscape comprised of mountainous farming land has an important agrarian function, but is also filled with touristic attractions. Moreover, Lembang is a popular retreat for the growing urban communities of Jakarta and Bandung. During the last years the landscape of Lembang has rapidly taken up a different face. Farming land is being replaced by resorts, hotels and villas and the asphalt roads surrounding them.
---
The working process
-TANAH hosted public workshops addressing the urban versus rural theme for the people living in Lembang.
-TANAH strived to look for a future landscape of Lembang that is joyful, diverse, safe, healthy and just. Its interrogation of the land and its users will open up a dialogue between farmers, inhabitants, government and land investors, between people living, working, recreating and surviving in the changing landscape of Lembang.
-TANAH investigated the landscape of Lembang using artistic archaeology. We looked for signs and artefacts embedded in the landscape, inquire into its history and listen to the people who have ever dreamed, hoped, worked, loved or passed by Lembang. TANAH aimed to explore, capture and recreate these ideas using theatrical language, movements and imagery. TANAH aims to evolve into a visionary "theatrical" landscape where all people live together in harmony with each other and the land.
-TANAH performed publicly in the open air using both professional actors and local users of the land. All relevant stakeholders and interested people are invited to participate.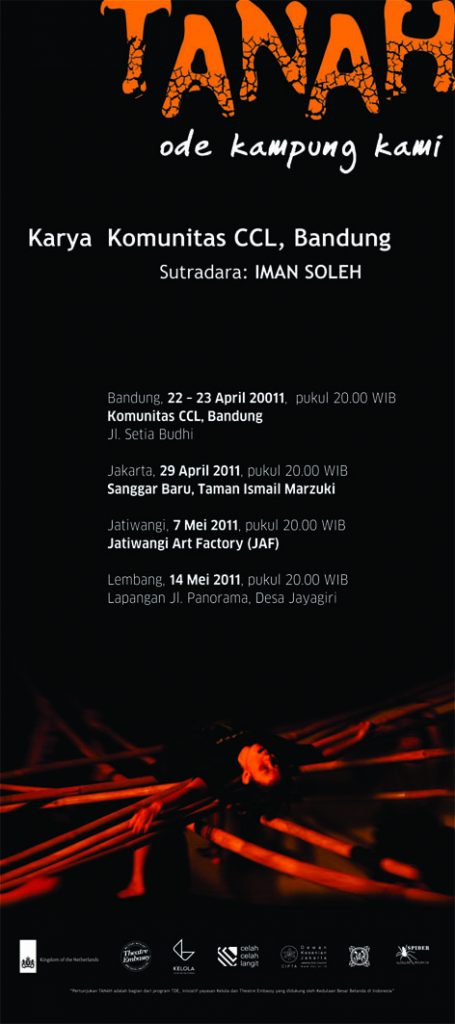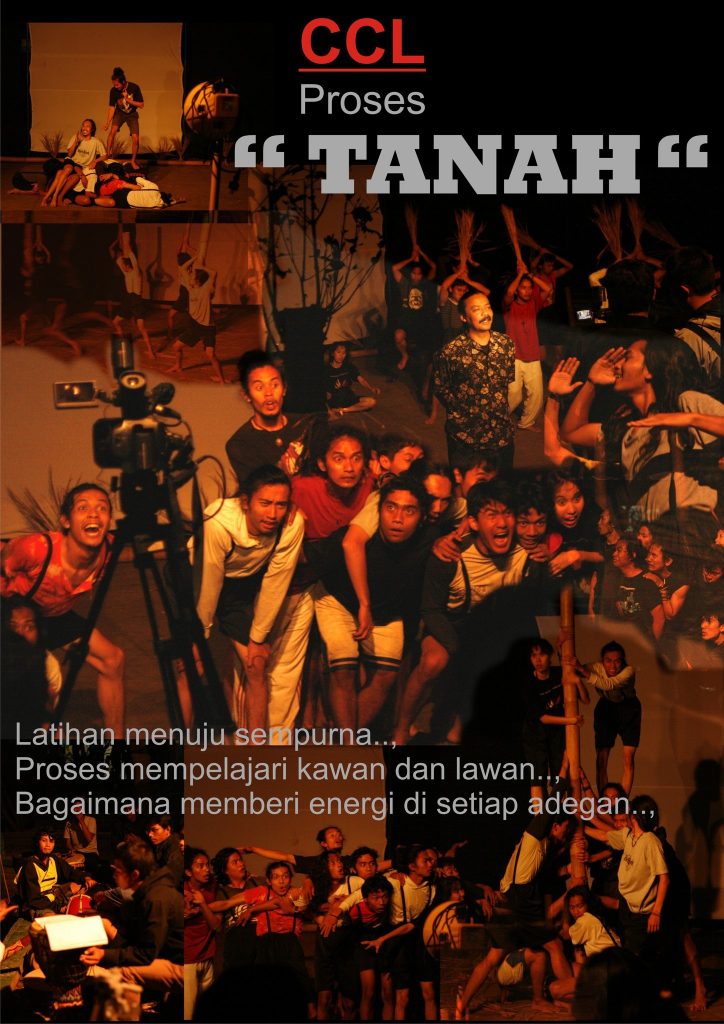 Partner organisation: Yayasan Kelola Foundation
Executors TE: 1
Theme: Life stories of farmers in Lembang
Local artists: 24
Production team: 6
Target group:
Audience: 15.000
Amount: 30
Volunteers: 20
Participating Organizations: Celah Celah Langit (CCL)