61. Netherlands: Ayni–Noord – 2011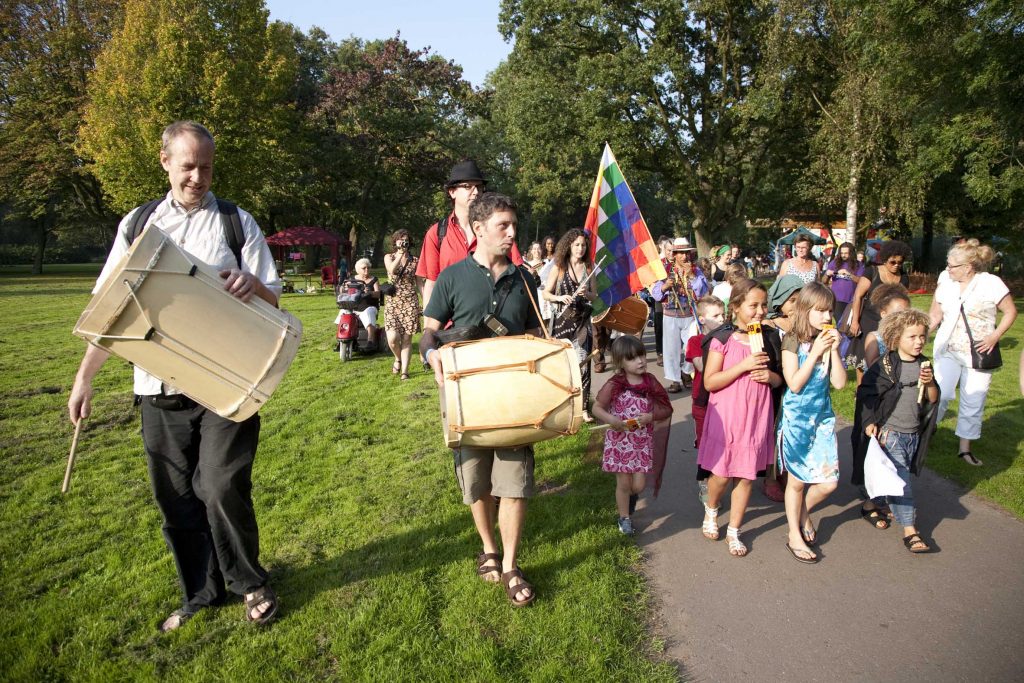 AYNI in Noord is a cultural meeting between Bolivia and Amsterdam Noord, initiated by the cultural development organization Theatre Embassy. Based on AYNI – the way of life from the Andes – we have brought groups and residents from Amsterdam North together with artists from different disciplines. They have inspired and touched each other and have entered into a creative collaboration based on the reciprocity that is the basis of AYNI: You give and something comes back to you through the law of reciprocity. On the 1st of October, there was a festival day where all the participants shared and showed the results of the exchange of art, ideas and food.
---
On 1 October in the Noorderpark, there was a cultural voyage of discovery for and by groups of residents of Amsterdam Noord in collaboration with musicians, theatre-makers and artists.
After the opening by Peter Faber, visitors could walk past a swing choir, worn coats told stories of residents and elderly from Amsterdam Noord, the elderly took place in their one-off 'park living room' where they attended an intimate living room concert at the Muziekstraat.
As neighbours, they got the Taalbraakers and a poetic viewing box in the Noorderpark room. The Bolivian dance group Alma Latina, together with Brass band Scorpio from North, swings the so-called "Caporales". Children gave a pan flute concert on homemade instruments. And as with every Bolivian party, there was a culinary ode to the potato. Visitors to AYNI in Noord were not only invited to come and have a look, but they could also participate in activities themselves. After all, at AYNI it's about reciprocity: so, look and be amazed, but also participate!
Partner organization: Noorderparkkamer
Executors TE: 3
Local artists: 13
Target group: Neighbourhoods in Amsterdam Noord.
Audience: 500
Volunteers: 250
Participating Organizations: Movementalist, BAM! producties, Zita projects, Osira ouderen groep, Scorpio, ABBS Elzenhagen, Scouting Wartburg, Mobiel eetcafe van St Cleopatra, Studio Achter de Winkel, Muziekstraat, Taalbrakers, Chi Qong, Solid Ground Movement
Finances: Theatre Embassy, Emotive.
Theme: reciprocity