08. India-Pakistan: A declaration of Love – 2004
A theatrical declaration of love from India to Pakistan and vice versa.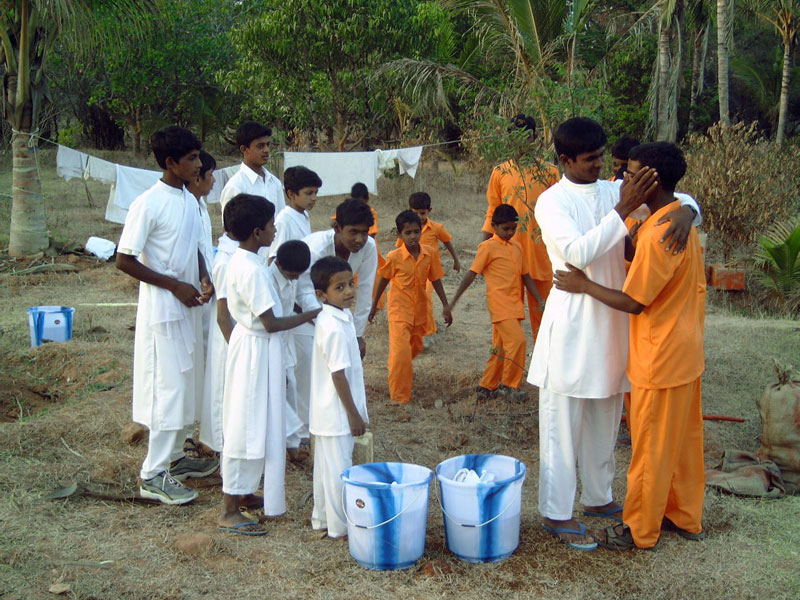 Two groups of young people from India and Pakistan made a theatrical declaration of love for each other. These declarations were staged together on March 20th 2004 in a peace event in India and Pakistan (Bangalore and Sahiwal).
As talks between India and Pakistan were proceeding and there was more interest in the conflict, it seemed the right time for a good and theatrical peace stunt. Theatre Embassy had therefore set up a theatre project in collaboration with Indian and Pakistani organizations. Two groups of young people from both countries worked towards one piece during a workshop phase. These pieces were performed on March 20th in front of a webcam. The declaration of love was shown on a large screen on both sides for the young people and the public. This project is a positive sign to the residents and leaders of Pakistan and India for the success of the peace agreements.
A Declaration of Love to a perfect stranger, Saturday March 20 in India and Pakistan (Bangalore and Lahore).
Partner organisation: theatre group Lokrahs and theatre group EchoIndia
Place: Pakistan, Lahore
Director: Fre Hooft van Huysduynen
Local Artists: 90 kids
Internship: 2 Dutch
Target group: youngsters
Audience: 600
Presentations: 2
Volunteers: 15
Participating Organizations: Theatre school Utrecht and Zwolle.
Finances: ICCO
Theme: Peace
Dvd: A Declaration of Love by Maurits Dekker