57. Democratic Republic of congo: Basal'ya Bazoba – 2009-2011
Basal'ya Bazoba was an awareness campaign on the law on Child Protection – notably on article 160 – that strictly forbids witchcraft accusations aimed at children.
Basal'Ya Bazoba is a music theatre production about accusations of witchcraft among children in Kinshasa, DR Congo. The production toured all districts of Kinshasa, a city of millions, from 1 December 2009 to 7 July 2010. In total, 101 performances were played at 52 locations – the production was performed on a specially designed mobile stage with two height levels. With our truck, we built the production up at locations as divergent as alongside the railway in Kisanto, on the public road in Ngaba and Ngiri Ngiri, at the market in Selembao and Mbanza Lemba, on school playgrounds in Kitambo and Lingwala, on busy squares at Place Victoire and along the Boulevard Lumuba. An estimated 100,000 spectators in total attended the performances.
---
Objectives:
100 performances in public spaces in all districts of Kinshasa for 40,000 spectators
Gripping music theatre about a complex social phenomenon of witchcraft allegations among children
Congolese cast and Congolese production crew working with an artistic team of Dutch and Congolese artists, Dutch director, production manager, designer and composer work together with Congolese musicians and theatre-makers.
To reach all layers of the population of Kinshasa
Production of CD with music from the show
Cooperating with children accused of witchcraft and letting them appear in or ahead of the music theatre production
Coproduction between the theatre group Compagnie Dakar, cultural development organization Theatre Embassy, theatre group K-Mu Théâtre and NGO Oser la Vie
Results:
101 performances in all 24 districts of the city of Kinshasa, at 52 different locations before an estimated total of 100,000 spectators.
Musical comedy lasting seventy minutes about witchcraft manipulations and witchcraft accusations among children in Kinshasa
Music theatre, whereby the Dutch "gerauschmacher" style of musical décor enters into a union with popular Congolese pop music – accompanied by the Belgian trumpeter Bart Maris and performed by a group of very talented Congolese musicians: among others rapper Larouse Marciano, guitarist Kojack Kosakamwe, percussionist Rigen Masuke, bassist Toussaint Kimbembi and songstress Olga Tshiuka.
Theatre maker and director Guido Kleene wrote this musical comedy about witchcraft manipulations in cooperation with Toto Kisaku and three other theatre-makers based on improvisations and extensive research
Extensive media attention to the phenomenon and the production. More than ten interviews on national and international TV channels. Thirty television reports about the production in various districts. Around twenty articles in the national press. Ten radio interviews on national and local media.
Production of a CD single in a run of 1000 copies with the three most important original numbers from the production. These were played on the city's major radio stations.
Weekly theatre workshops, eight audition afternoons and weekly appearances of ten talented children accused of witchcraft every Saturday ahead of the matinee performance of Basal'Ya Bazoba. They played special scenes developed with Toto about witchcraft allegations and comical sketches about life in Kinshasa. The children were supported by Oser la Vie.
Special performances before local politicians, representatives of the police and the municipality, before schools and schoolchildren, theatre-makers and NGOs.
The tour was organised by a completely Congolese crew of technicians, production, security, audience support and artists. There was only one Dutchman present during the tour – director Guido Kleene.
Capacity of local artists, technicians and production workers boosted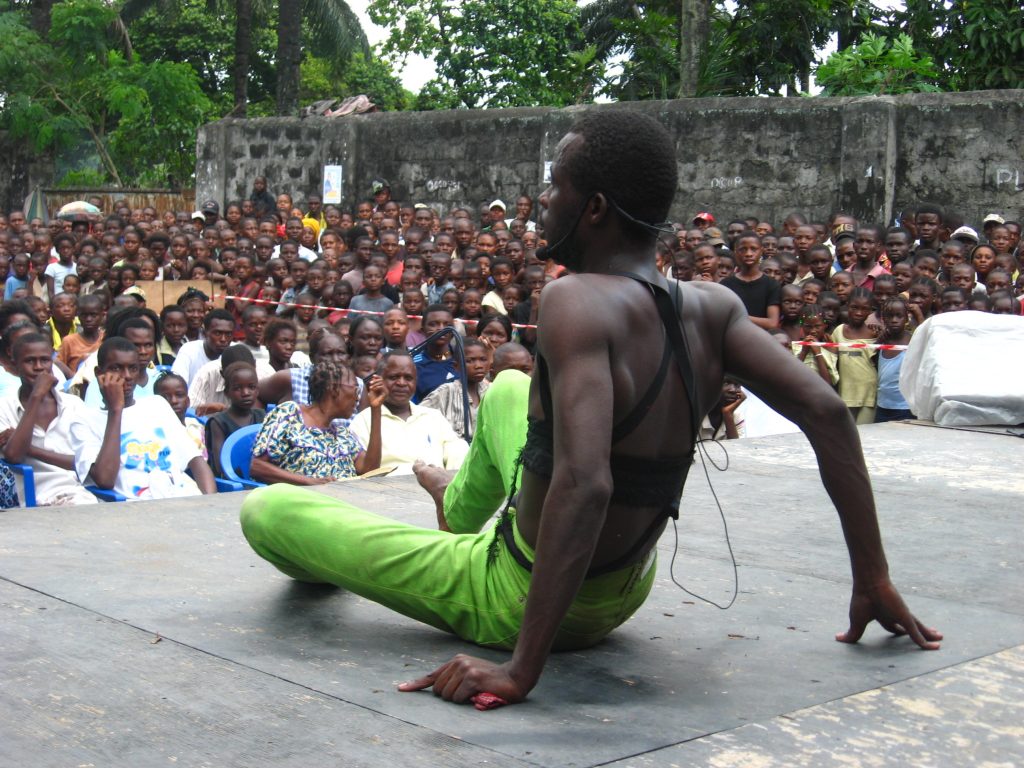 The results are a good reason for us to be proud of this project. In a country that is complicated at all levels like Congo, organizing a tour of 101 performances in the capital – at public places with all the permits needed for that, and in a country where the holders of power take a very reserved stance against any form of collective education – is most definitely an achievement. The results showed that the goals of the project were more than achieved. We find it important to devote attention to the collaboration with the Congolese organizations and the working field of Kinshasa. With agile and tactical manoeuvring, we realized the very ambitious results and we (almost) stayed within the budget – without any money being stolen – apart from that not a single chair or mobile phone was stolen during the entire tour, there were no dangerous or potentially explosive situations arising and we were able to keep the entire crew together. All this while we were playing at places regarded as unsafe, where the security measures taken by the state are clearly left wanting and where large groups of potentially disruptive youths and gangs operate.
Between December 2009 and July 2010, the partners K-Mu Théâtre, Oser La Vie (both from DRC), Theatre Embassy and Compagnie Dakar (both from the netherlands) have been presenting 101 performances of the musical comedy 'Basal'Ya Bazoba' on 52 different sites in all the 24 districts of capital Kinshasa. In total – over 100.000 people have attended one of the performances in public places and schools.
At the end of 2010, 'Basal'ya Bazoba' was awarded the First Runner Up-prize from the Freedom to Create Prize in Cairo, Egypt.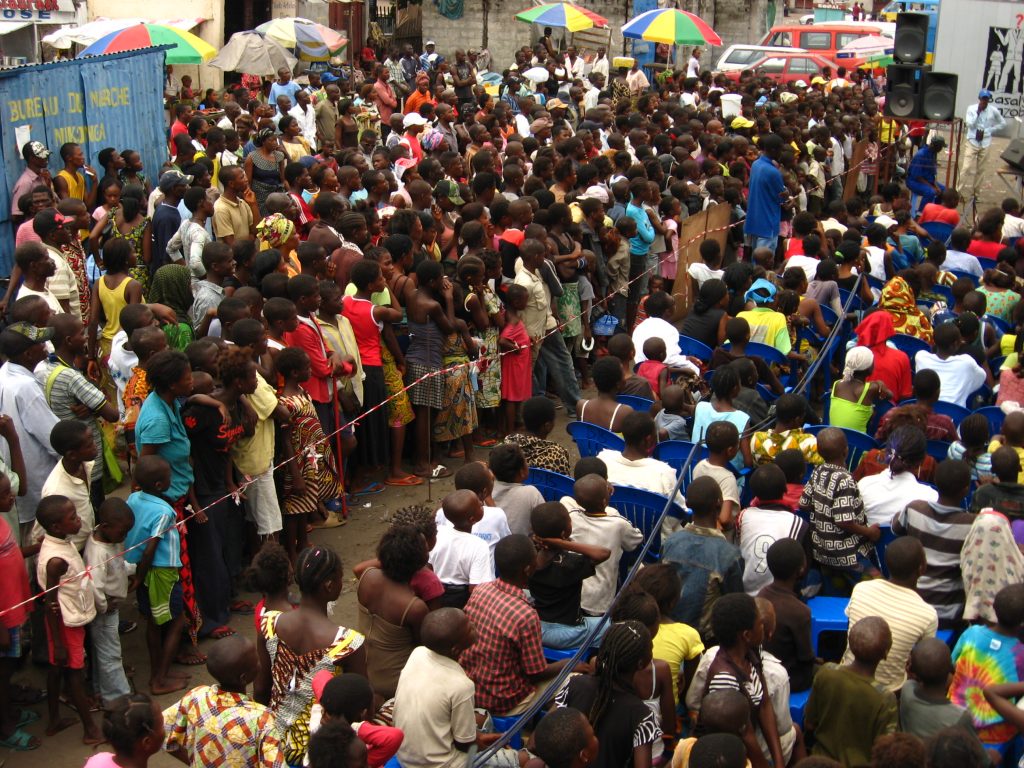 Prix Freedom to Create
"The artists who have been selected as finalists in this year's Freedom to Create competition know full well the price, they are paying to express their ideas, hopes, and dreams for their people and their nations. They have endured harsh criticisms, and in some cases, have placed themselves in grave danger. As a result, they have done more than expose the ills plaguing their societies. They have provided solutions and alternatives, and by so doing, they are trying to change the world. Each exemplifies the power of art, music, and the written word."
First runner-up of the Main Prize: K-Mu Théâtre, a musical theatre group that uses drama to address the persecution of child witches in the Democratic Republic of Congo, a country that is struggling to rebuild itself after decades of conflict. Playing to over 100,000 people, this theatre troupe has encouraged open discussions on the social taboos that surround sorcery and addresses the role of the churches in the systematic accusation, abuse and abandonment of children.
Receiving the award on behalf of K-Mu Théâtre, Toto Kisaku said, "Our goals with Basal'ya Bazoba are to create consciousness and discussion on the real issues that have created this situation of children being accused of sorcery and being abused and abandoned. Freedom to Create is working to address positive social change and helping us to draw attention to such a sensitive and complicated issue as child sorcery, inviting people to form their own opinion and follow our lead and use art to transform society."
Partner organization: K-Mu Théâtre
Executors: 5
Local artists: 9
Target group: General audience in Kinshasa
Audience: 150.000
Performances: 150
Volunteers:
Participating Organizations: Compagnie Dakar, Oser la Vie
Finances: NFPK+, Art Action/ Freedom to Create, Dutch Embassy in DR Congo, Cordaid, Theatre Embassy, PSO
Theme: Abandoned Children
Music CD for Congo
DVD and music produced in 2012 by Theatre Embassy