39. India-Assam: The Power of Puppetry – 2008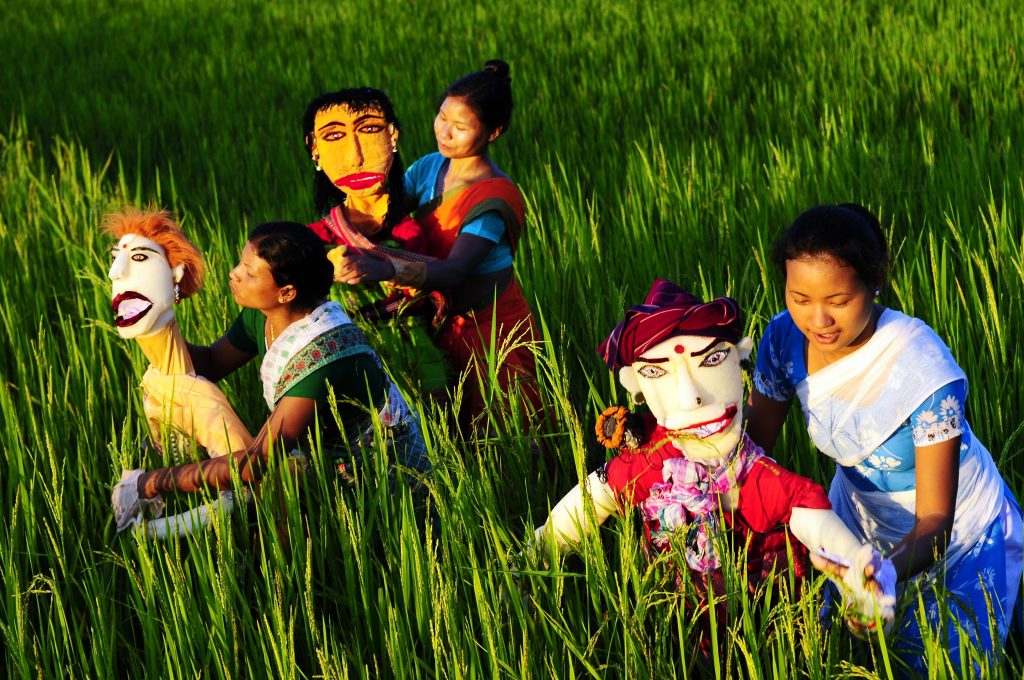 In the countryside in Assam, Sukra Rabha led his theatre group Bandung Duppa. Inspired by the native dances and rituals, he developed a new form of theatre within the region's own tradition. Every year, he organized a festival that served as a melting pot in which different forms and dances are shown in a search for the development of his own modern theater.
In 2008, 14 young actors in Northeast India received intensive training from puppet teacher Evelien Pullens. In October she travelled again to the partner organization Badungduppa to visit the participants of this project in their own village, where they developed new ideas and puppets. Some devoted themselves to making their own dolls in the costumes of their tribe, others formed a group around them and started teaching.
---
Because there is a lot of poverty and political tension in this area, the population is cautious and wants the young people to find a good job instead of becoming artists. But there are hardly any good jobs! That makes many young people confused and insecure. Culture is a good way to counteract the tensions that exist there.
Eveline Pullens completed her one-year track of Power of Puppetry with a performance called Bijuli and was played in Assam as well as in Central India, thereby giving Bandung Duppa national fame.
Partner organisation: Theatre group Badungduppa
Place: India, Assam
Directors: Evelien Pullens and Sukra Rabha
Local artists: 10
Target group: General audience
Audience: 2000
Performances: 5
Volunteers: ?
Participating Organizations: Kalakshetra Manipur
Finances: Theatre Embassy Cordaid, Stichting Terra, HIVOS/NCDO.
Theme: Peacebuilding
Photo exposition by Stijn de Corte and book publication by Evelien Pullens