47. Sudan: Puppetry training/ Torat – 2009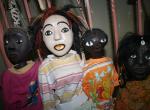 The project was a puppeteering workshop for the participation of Women. Following up on an earlier project carried out in April 2008, Heddy Veltkamp and 3 members of SWPA travelled to the South of Sudan, to teach puppetry lessons and workshops on various techniques to a unique group of women who have been unable to attend school due to the war. This puppeteering project is aimed at providing an education to the women from the local community, as well as enabling training for the members of SWDPA to learn how to use their own skills to help others.
Partner organisation: SWDPA
Executors: 2
Crossover: 1
Local artists: 28
Target group: Local artists
Audience: 500
Performances: 1
Volunteers: –
Participating Organizations:
Finances: PSO, Theatre Embassy.
Theme: puppetry making and alternative way of reaching women for education.