28. indonesia: The man in the Tree/ Dicong Bak – 2006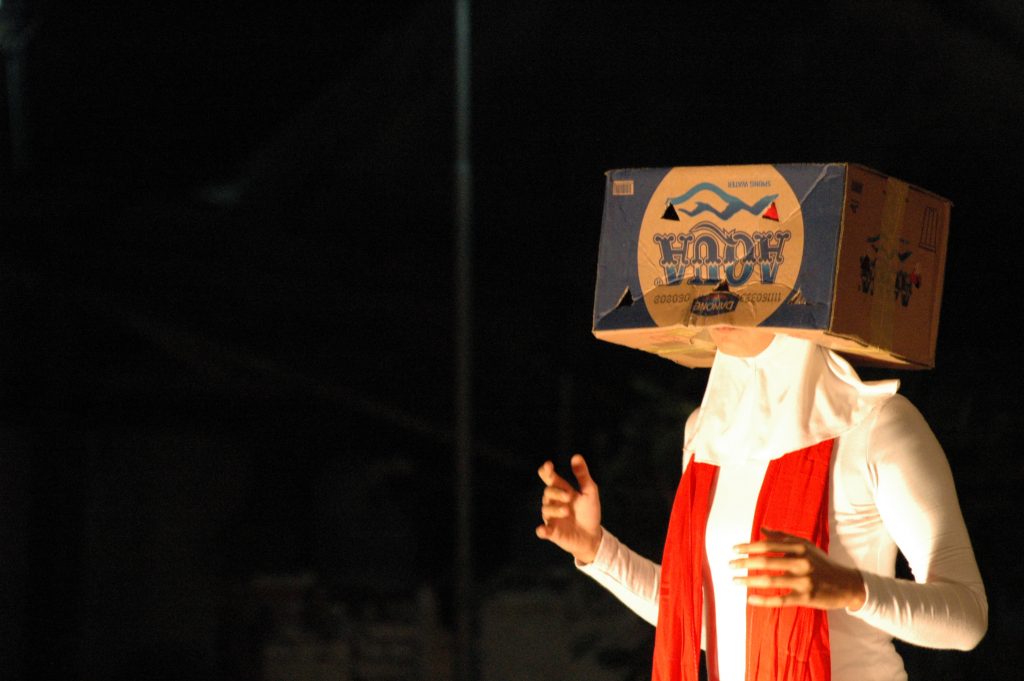 The Indonesian province of Aceh (North Sumatra) has a long history of war and struggle, both with other peoples and with nature. Recent examples of natural disasters are the tsunami of 2004 and the earthquake of 2006. Many people in Aceh have died or became homeless. After all this natural violence, war and battle, one man has decided never to set foot on the bottom again …
The tsunami temporarily withdrew the Indonesian army from Aceh and made it possible for foreign aid organizations to enter the area. In addition to the importance of economic aid, it is important that people can express their perception and experiences. Theatre Embassy stayed with a local theatre group in a house on Aceh for a month. Together they are intensively involved with the people, the stories and the history of Aceh. The play The Man in the Tree was the result of this collaboration. The set-up of the play was created in close collaboration with the local population.
The spectator witnesses the reconstruction of a destroyed warung kopi (coffee house). In the warung kopi, strangers and acquaintances meet again for the first time after the terrible disaster. Stories of grief, misfortune, rescue and reconstruction are exchanged over a cup of coffee. The narrator of the "big story," the story of Aceh's history, is located in a tree right behind the coffee house. This old man refuses to set foot on the ground any longer. Afraid of a new tidal wave of death and destruction, fearful of a resurgence of battle, he has decided to see the world from a safe height. However, the events in the warung kopi under the tree do not leave him unaffected and so we witness his inner struggle. It is a psychological battle between giving up and staying put or trying to build a new life for the umpteenth time, a story about surviving a thousand years of disaster.
The Man in the Tree is a tragic-comedic piece full of beautiful stories, music, great suffering and joie de vivre. Despite everything, the people of Aceh continue to believe in an existence on their own feet, on their own soil, under the trees of their land. The man in the Tree is therefore a piece about and for the people of the province of Aceh.
Partner organisation: Teater Garasi & Tikar Pandan
Executors: 2
Local artists: 9 (Java: 4, Aceh: 4)
Production: 1
Target group: General audience
Audience: 2500
Presentations: 8
Volunteers: 4
Participating Organizations: University of Banda Aceh, Komunitas Tikar Pandan
Finances: Cordaid, netherlands Embassy in Indonesia, Theatre Embassy
Theme: gender & power play, impact of natural disaster
DVD: Coping with Creation 30 minutes by Maurits Dekker